Going Public: Into the great wide open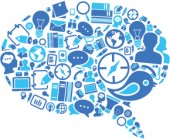 This Vancouver event is free and there are a few spots remaining!
Description: One of the exciting and challenging elements about adopting open strategies is the notion of exposing work and interacting with audiences outside the traditional academy. This session will gather a number of practitioners who have embraced openness for a variety of motives: to disseminate scholarly research, to generate collaboration and raise public profiles, or for advocacy. In addition to hearing their stories, we will discuss concerns such as copyright, privacy, and attempt to define a set of practices and strategies to assist others who want to take their work into a broader sphere. We will also look at how to determine if these efforts are having their desired effect.
When: May 28, 2012 13:15 – 15:45
Where: Irving K. Barber Learning Centre Seminar Room , UBC
Full details and registration: Going Public: Into the great wide open – Centre for Teaching, Learning and Technology.
Follow on resources: