Find Open Textbooks
Professional Communications OER - Module 1: Foundations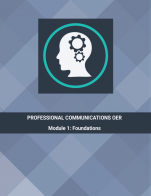 Description: This Open Educational Resource (OER), developed by Olds College is collaboration with the Government of Alberta, is a series of modules intended for use in Higher Education courses or by independent learners. This resource is useful for instructors whose courses cover introductory communication skills, workplace communication, technical communication, or business writing. It contains four modules, each with its own lesson plans, assessments, and supporting materials. This is module 1 of 4, in which students will learn important foundational skills to address the complexities of communicating in the modern-day professional environment. Topics include audience, communication channels, plain language, using visuals, and using feedback.
Author: Olds College OER Development Team
Adoptions (faculty): Contact us if you are using this textbook in your course
Adaptations: Support for adapting an open textbook
Need help? Visit our Help page for FAQ and helpdesk assistance
Accessibility: Textbooks flagged as accessible meet the criteria noted on the Accessibility Checklist
Open Textbooks:

Professional Communications OER - Module 1: Foundations by Olds College OER Development Team is licensed under a Creative Commons Attribution 4.0 International License, except where otherwise noted.
---