Find Open Textbooks
In the Community: An Intermediate Integrated Skills Textbook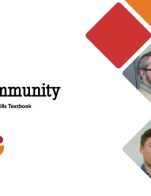 Description: This is an English language skills textbook to help ELL students acquire communication skills in the community (listening, speaking, reading, and writing). The book is aimed at Canadian Language Benchmark (CLB) levels 5/6, focusing on intercultural skills and essential skills: reading text, document use, writing, oral communication, thinking skills, working with others, and computer use. The digital PDF file can be printed or used from a computer. All of the multimedia files can be accessed from the PDF if there is internet access. For offline use, the video and audio files can be downloaded below.
Author: NorQuest College
Original source: centre.bowvalleycollege.ca
Adoption (faculty): Contact us if you are using this textbook in your course
Adaptations: Support for adapting an open textbook
Need help? Visit our Help page for FAQ and helpdesk assistance.
Accessibility: Textbooks flagged as accessible meet the criteria noted on the Accessibility Checklist.
Open Textbooks:

In the Community: An Intermediate Integrated Skills Textbook by NorQuest College is licensed under a Creative Commons Attribution-ShareAlike 4.0 International License, except where otherwise noted.
---