Find Open Textbooks
Environmental Biology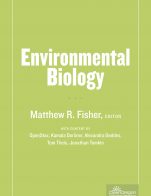 Description: Environmental Biology enables students to develop a nuanced understanding of today's most pressing environmental issues. This text helps students grasp the scientific foundation of these issues so that they can better understand the world around them and their impact upon it. This open textbook covers the most salient environmental issues, from a biological perspective. The text is designed for an introductory-level college science course. Topics include the fundamentals of ecology, biodiversity, pollution, climate change, food production, and human population growth.
Author: Matthew R. Fisher, Editor, Open Oregon
Original source: www.oercommons.org
Adoption (faculty): Contact us if you are using this textbook in your course
Adaptations: Support for adapting an open textbook
Need help? Visit our Help page for FAQ and helpdesk assistance.
Accessibility: Textbooks flagged as accessible meet the criteria noted on the Accessibility Checklist.
Open Textbooks:

Environmental Biology by Matthew R. Fisher, Editor, Open Oregon is licensed under a Creative Commons Attribution 4.0 International License, except where otherwise noted.
---