Find Open Textbooks
Line C: Tools and Equipment Competency C-2: Describe Common Power Tools and Their Uses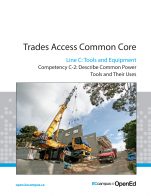 Description: Power tools play a major role in virtually every trade. You will be expected to be familiar with a wide range of portable and stationary power tools and to understand the safe operation of these tools. Proper maintenance improves the life and performance of the tool. Correct set-up and operating procedures ensure good results and prevent injury. The following list of lines and competencies was generated with the goal of creating an entry-level trades training resource, while still offering the flexibility for lines to be used as stand-alone books. Line C – Tools and Equipment. C-1 Describe Common Hand Tools and Their Uses, C-2 Describe Common Power Tools and Their Uses, C-3 Describe Rigging and Hoisting Equipment, C-4 Describe Ladders and Platforms. Special thanks to CAPER-BC (https://caperbc.ca/) for creating the audio recording for each Competency.
Author: Camosun College
Adoptions: Tell us you are using this Open Textbook
Adaptations: Support for adapting an open textbook
Need help? Visit our help page
Accessibility: Textbooks flagged as accessible meet the criteria noted on the Accessibility Checklist
Open Textbooks:

Line C: Tools and Equipment Competency C-2: Describe Common Power Tools and Their Uses by Camosun College is licensed under a Creative Commons Attribution 4.0 International License, except where otherwise noted.
---