Find Open Textbooks
Introduction to Logic and Critical Thinking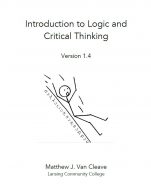 Description: This is an introductory textbook in logic and critical thinking. The goal of the textbook is to provide the reader with a set of tools and skills that will enable them to identify and evaluate arguments. The book is intended for an introductory course that covers both formal and informal logic. As such, it is not a formal logic textbook, but is closer to what one would find marketed as a "critical thinking textbook."
Author: Matthew J. Van Cleave, Lansing Community College
Adoption (faculty): Contact us if you are using this textbook in your course
Adaptations: Support for adapting an open textbook
Need help? Visit our Help page for FAQ and helpdesk assistance.
Accessibility: Textbooks flagged as accessible meet the criteria noted on the Accessibility Checklist.
Open Textbooks:

Introduction to Logic and Critical Thinking by Matthew J. Van Cleave, Lansing Community College is licensed under a Creative Commons Attribution 4.0 International License, except where otherwise noted.
---