Find Open Textbooks
eMarketing - The Essential Guide to Online Marketing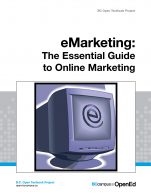 Description: eMarketing: The Essential Guide to Online Marketing is a textbook intended for third and fourth year marketing students and draws on both academic theory and practical experience. The book offers students information that is applicable to the eMarket industry by providing examples that are easily relatable. The book covers all of the important aspects of online marketing, including the areas associated with search engine marketing, affiliate marketing, web analytics and conversion optimisation, web development, online copywriting, online advertising, webPR, online reputation management, pay per click advertising, viral marketing, social media marketing, search engine optimisation, eMarketing strategy, market research, mobile marketing, crowd sourcing, and customer relationship management. The book also features summaries, learning objectives and discussion points for each chapter, as well as, a glossary and index.
Author: Rob Stokes, Saylor Academy
Original source: saylordotorg.github.io
Adoptions (faculty): Contact us if you are using this textbook in your course
Adaptations: Support for adapting an open textbook
Need help? Visit our Help page for FAQ and helpdesk assistance
Accessibility: Textbooks flagged as accessible meet the criteria noted on the Accessibility Checklist
Open Textbooks:

eMarketing - The Essential Guide to Online Marketing by Rob Stokes, Saylor Academy is licensed under a Creative Commons Attribution-NonCommercial-ShareAlike 4.0 International License, except where otherwise noted.
---
1. Reviewed by:

Jarrett Vaughan

Q: The text covers all areas and ideas of the subject appropriately and provides an effective index and/or glossary

Yes it does, I do not believe that any improvements need to be made in this area.

Comprehensiveness Rating: 4 out of 5

Q: Content is accurate, error-free and unbiased

yes, I believe this to be true

Content Accuracy Rating: 4 out of 5

Q: Content is up-to-date, but not in a way that will quickly make the text obsolete within a short period of time. The text is written and/or arranged in such a way that necessary updates will be relatively easy and straightforward to implement

I don't think that chapter 1 holds any value. The history behind the internet etc does not seem relevant for a digital marketing student. If I taught with this book, I would skip this chapter.

I feel the same about the first section of chapter 2 and all remaining sections that include history. History is irrelevant for a marketing course like this.

Navigation is simple and clear. I think it would be helpful to have a list of learning outcomes at the beginning of the chapter, and then reference them throughout the text.

Relevance Rating: 3 out of 5

Q: The text is written in lucid, accessible prose, and provides adequate context for any jargon/technical terminology used

There are a lot of technical terms. They are all explained well however I am not sure they hold relevance for a digital marketing course. Many of the terms are more appropriate in a web development course. Terms such as HTML...

Clarity Rating: 4 out of 5

Q: The text is internally consistent in terms of terminology and framework

yes

Consistency Rating: 5 out of 5

Q: The text is easily and readily divisible into smaller reading sections that can be assigned at different points within the course (i.e., enormous blocks of text without subheadings should be avoided). The text should not be overly self-referential, and should be easily reorganized and realigned with various subunits of a course without presenting much disruption to the reader.

There are very very small sections of text, sometime broken down into one sentence sections. This does make it simple to read but seems to broken up. It seems a bit disruptive. I think group the each topic into larger sections would be helpful.

Modularity Rating: 3 out of 5

Q: The topics in the text are presented in a logical, clear fashion

Generally the text is presented in a logical fashion. As I previously mentioned, have the learning outcomes at the beginning of each chapter would be helpful.

Organization Rating: 4 out of 5

Q: The text is free of significant interface issues, including navigation problems, distortion of images/charts, and any other display features that may distract or confuse the reader

no issues.

Interface Rating: 5 out of 5

Q: The text contains no grammatical errors

no issues

Grammar Rating: 5 out of 5

Q: The text is not culturally insensitive or offensive in any way. It should make use of examples that are inclusive of a variety of races, ethnicities, and backgrounds

no issues

Cultural Relevance Rating: 5 out of 5

Q: Are there any other comments you would like to make about this book, for example, its appropriateness in a Canadian context or specific updates you think need to be made?

I wouldn't recommend this book as it seems dates. There are much more current books which hold more relevant features and content.

There are a couple additional adjustments I would recommend.

1. Add links or impeded videos relevant to the topic.
2. More picture and graphics. Book is not well designed in an engaging and modern approach. It is fairly simple and elementary from a design perspective. A modern look would help student connect with the very relevant topic at hand.
3. Social Media section is out of date. Should not be talking about Wikis and bookmarking... not super relevant or important. No mention of Instagram. Still talks about mySpace. This section in particular reads as if the author has read about social media but has not first hand experience.
4. Mention of Hotmail in Chapter 10, this type of content really needs to be updated.

This books has fallen trap, as many others have. Digital Marketing books need to be updated 2 times per year, looks like this book has not been updated in about 10 years.