Find Open Textbooks
Trigonometry and Single Phase AC Generation for Electricians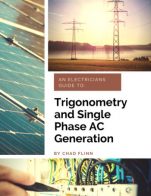 Description: To understand electrical theory, it is important to have a grasp of trigonometry. Whether we are talking about single phase or polyphase power, trigonometry is a key concept. This textbook, divided into three sections and provides easy-to-understand and enjoyable lessons on trigonometry, vectors, and AC generation for those training and working as electricians.
Author: Chad Flinn, BCIT
Original source: pressbooks.bccampus.ca
Adoptions (faculty): Contact us if you are using this textbook in your course
Adaptations: Support for adapting an open textbook
Need help? Visit our Help page for FAQ and helpdesk assistance
Accessibility: Textbooks flagged as accessible meet the criteria noted on the Accessibility Checklist
Open Textbooks:

Trigonometry and Single Phase AC Generation for Electricians by Chad Flinn, BCIT is licensed under a Creative Commons Attribution 4.0 International License, except where otherwise noted.
---