Find Open Textbooks
Cross Connection Control for Plumbing and Piping Trades: Plumber Apprenticeship Program Level 3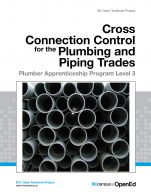 Description: This manual is as part of your third year of apprenticeship training program you must have completed your level 1 and level 2 training to be eligible for this level of training in cross connection control. If you pass the theory and practical portion of this third year and your fourth year training during your apprenticeship training and pass your Red Seal Interprovincial examinations, you will be issued a Red Seal Certificate of Qualification. This Red Seal endorsement entitles you to work anywhere in Canada in your trade without material additional training, experience, examinations or assessments. Refer to labour mobility guidelines 2009
Author: Richard V. Mawle RSE, Camosun College (retired)
Adoption (faculty): Contact us if you are using this textbook in your course
Adaptations: Support for adapting an open textbook
Need help? Visit our Help page for FAQ and helpdesk assistance.
Accessibility: Textbooks flagged as accessible meet the criteria noted on the Accessibility Checklist.
Open Textbooks:
PRINT Buy a print copy (Queen's Printer)

DOWNLOAD

EDITABLE: Word file (.docx) (87 MB)

DOWNLOAD

Print (.pdf) (136 MB)

Cross Connection Control for Plumbing and Piping Trades: Plumber Apprenticeship Program Level 3 by Richard V. Mawle RSE, Camosun College (retired) is licensed under a Creative Commons Attribution-NonCommercial 4.0 International License, except where otherwise noted.
---