Find Open Textbooks
Perspectives: An Open Invitation to Cultural Anthropology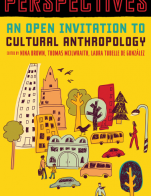 Description: This textbook is a collection of chapters on the essential topics in cultural anthropology. Different from other introductory textbooks, this book is an edited volume with each chapter written by a different author. Each author has written from their experiences working as an anthropologist and that personal touch makes for an accessible introduction to cultural anthropology. British Colmbia contributors include: contributing author Logan Cochrane, UBC, (chapter 16: Seeing Like an Anthroplogist: Anthropology in Practice) and peer reviewer Bob Muckle, Capilano University.
Author: Society for Anthropology in Community Colleges
Original source: perspectivesanthro.org
Adoptions (faculty): Contact us if you are using this textbook in your course
Adaptations: Support for adapting an open textbook
Need help? Visit our Help page for FAQ and helpdesk assistance
Accessibility: Textbooks flagged as accessible meet the criteria noted on the Accessibility Checklist
Open Textbooks:

Perspectives: An Open Invitation to Cultural Anthropology by Society for Anthropology in Community Colleges is licensed under a Creative Commons Attribution-NonCommercial 4.0 International License, except where otherwise noted.
---