Find Open Textbooks
Health Case Studies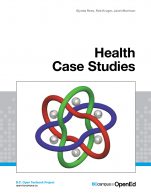 Description: Health Case Studies is composed of eight separate health case studies that align with the open textbooks Clinical Procedures for Safer Patient Care and Anatomy and Physiology: OpenStax. Each case study includes the patient narrative or story that models the best practice (at the time of publishing) in healthcare settings. Associated with each case is a set of specific learning objectives to support learning and facilitate educational strategies and evaluation. The case studies can be used online in a learning management system, in a classroom discussion, in a printed course pack or as part of a textbook created by the instructor. This flexibility is intentional and allows the educator to choose how best to convey the concepts presented in each case to the learner. Because these case studies were primarily developed for an electronic healthcare system, they are based predominantly in an acute healthcare setting. Educators can augment each case study to include primary healthcare settings, outpatient clinics, assisted living environments, and other contexts as relevant.
Author: Glynda Rees, Rob Kruger, Janet Morrison; British Columbia Institute of Technology
Original source: pressbooks.bccampus.ca
Adoptions: Tell us you are using this Open Textbook
Adaptations: Support for adapting an open textbook
Need help? Visit our help page
Accessibility: Textbooks flagged as accessible meet the criteria noted on the Accessibility Checklist
Open Textbooks:

Health Case Studies by Glynda Rees, Rob Kruger, Janet Morrison; British Columbia Institute of Technology is licensed under a Creative Commons Attribution-ShareAlike 4.0 International License, except where otherwise noted.
---