Find Open Textbooks
English Literature: Victorians and Moderns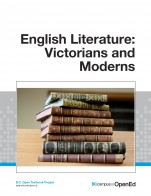 Description: English Literature: Victorians and Moderns is an anthology with a difference. In addition to providing annotated teaching editions of many of the most frequently-taught classics of Victorian and Modern poetry, fiction and drama, it also provides a series of guided research casebooks which make available numerous published essays from open access books and journals, as well as several reprinted critical essays from established learned journals such as English Studies in Canada and the Aldous Huxley Annual with the permission of the authors and editors. Designed to supplement the annotated complete texts of three famous short novels: Henry James's The Turn of the Screw, Joseph Conrad's Heart of Darkness, and Aldous Huxley's Brave New World, each casebook offers cross-disciplinary guided research topics which will encourage majors in fields other than English to undertake topics in diverse areas, including History, Economics, Anthropology, Political Science, Biology, and Psychology. Selections have also been included to encourage topical, thematic, and generic cross-referencing. Students will also be exposed to a wide-range of approaches, including new-critical, psychoanalytic, historical, and feminist.
Author: Dr. James Sexton, Camosun College
Adoption (faculty): Contact us if you are using this textbook in your course
Adaptations: Support for adapting an open textbook
Need help? Visit our Help page for FAQ and helpdesk assistance.
Accessibility: Textbooks flagged as accessible meet the criteria noted on the Accessibility Checklist.
Open Textbooks:

English Literature: Victorians and Moderns by Dr. James Sexton, Camosun College is licensed under a Creative Commons Attribution 4.0 International License, except where otherwise noted.
---
1. Reviewed by:

Candace Fertile

Q: The text covers all areas and ideas of the subject appropriately and provides an effective index and/or glossary

As there is so much choice it's difficult to say what should be included as each instructor may have different ideas. But this text provides a wide range of material. There is no index, but students can use the search function. The glossary of terms at the end is useful although the format could be more helpful by not having the initial line indented but subsequent lines in the explanation, so that the key word is at the left margin.

Comprehensiveness Rating: 5 out of 5

Q: Content is accurate, error-free and unbiased

The content is accurate and error-free. It is impossible to be unbiased, but this text indicates a desire on the part of the editor to be as inclusive as possible, given the constraints of length (it could have been twice as long--or longer--given the wealth of material in these periods, but that would not be feasible).

Content Accuracy Rating: 5 out of 5

Q: Content is up-to-date, but not in a way that will quickly make the text obsolete within a short period of time. The text is written and/or arranged in such a way that necessary updates will be relatively easy and straightforward to implement

As the primary selections are Victorian and Modern, that content is up-to-date. Secondary material will change over time as new articles and books are published, but the strength of this text is in the primary work. And my experience with undergraduates, especially in the first couple of years is that they need to read as much literature as possible to be able to form their own ideas before tackling criticism.



Relevance Rating: 5 out of 5

Q: The text is written in lucid, accessible prose, and provides adequate context for any jargon/technical terminology used

It's evident that the editor has a greta deal of teaching experience and can anticipate the kinds of questions students may have.

Clarity Rating: 5 out of 5

Q: The text is internally consistent in terms of terminology and framework

Yes, the text follows a clear plan.

Consistency Rating: 5 out of 5

Q: The text is easily and readily divisible into smaller reading sections that can be assigned at different points within the course (i.e., enormous blocks of text without subheadings should be avoided). The text should not be overly self-referential, and should be easily reorganized and realigned with various subunits of a course without presenting much disruption to the reader.

As the text is designed for a chronological study of the material, it is arranged by dates. That makes sense. It is possible for an instructor to choose (or move over) selections as the material is dealt with by author and selection.

Modularity Rating: 4 out of 5

Q: The topics in the text are presented in a logical, clear fashion

Clarity is a hallmark of this text.

Organization Rating: 5 out of 5

Q: The text is free of significant interface issues, including navigation problems, distortion of images/charts, and any other display features that may distract or confuse the reader

As far as I can tell, yes. I do find that indentation could be larger and some pages seems to have long lines of type, which can be a bit overwhelming for students unused to reading fiction. I assume though that the formatting is determined somewhat by the source of the selection.


Interface Rating: 5 out of 5

Q: The text contains no grammatical errors

It's well-written.

Grammar Rating: 5 out of 5

Q: The text is not culturally insensitive or offensive in any way. It should make use of examples that are inclusive of a variety of races, ethnicities, and backgrounds

Because of the time frame, this issue is less important than it is for later periods of literature (contemporary, for example). Certainly in the section on Heart of Darkness, the editor has included relevant works (Chinua Achebe's essay, for example) on racism and various commentaries. English literature in the Victorian (and Modern) period was rather homogenous in terms of race, ethnicity, and background. So it's natural that the text reflects that. Also the editor says that he has included selections that are often taught, and that means a cumulative effect of choices made by instructors and editors. If this principle of selection (often taught) had not been used, I'd expect a wider variety of selections. But the text follows the stated selection principles of the editor.

Cultural Relevance Rating: 5 out of 5

Q: Are there any other comments you would like to make about this book, for example, its appropriateness in a Canadian context or specific updates you think need to be made?

The book focusses on British works as that has been the focus of such a course (Victorians and Moderns). A course on world literature on English of those times would be different. American literature and Canadian literature are usually dealt with in their own courses.

I did notice that Juno and the Paycock entered the public domain in January 2015 as the editor notes in the section on O'Casey, so it can now be included (the text was completed in Sept. 2014).

If it were my text, I'd probably have chosen Great Expectations or Hard Times for Dickens, Portrait of a Lady for James, Mrs Dalloway for Woolf (with comment on The Hours, both book and film), less Hardy, some Robert Graves, maybe a Bronte novel (Charlotte or Emily), maybe a Gaskell novel, and Orwell's "Politics and the English Language" and "A Hanging" instead of what's there. . . but as I said earlier, any instructor is going to have favourites.

Why is "Daughters of the Late Colonel" spread over several pages?

I would also have included more explanatory material (on the Victorian novel, for example) although there are links to material. I wonder how many students will go to there links unless they have to do so.

Plus I find it completely annoying to go a link (Bartleby website, for example) to get to a poem (Prufrock, for example) and be subjected to advertising on the webpage.

Perhaps an explanation of public domain and copyright would help?

Also a timeline of literature and history may help.

And I find it a bit odd to have Wilfred Owen before Rupert Brooke in the WW1 poetry section as Brooke was born before Owen, died before Owen, and wrote poetry of an earlier perception of the war. I would have included a poem or two by Brooke, not just a link.

And I've just noticed (although it may be my computer) that the slider on the right hand side for page numbers does not match the page number. Neither does the page number at the bottom of the screen match the page one is on. I'm reading the PDF download.

I'd give a short explanation of the purpose of documentation and the perils of Wikipedia and blogs (students should probably have learned this information in first year, but it does't hurt to repeat).