Find Open Textbooks
Essentials of Linguistics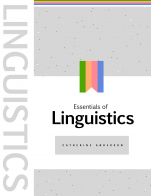 Description: This Open Educational Resource (OER) brings together Open Access content from around the web and enhances it with dynamic video lectures about the core areas of theoretical linguistics (phonetics, phonology, morphology, syntax, and semantics), supplemented with discussion of psycholinguistic and neurolinguistic findings. Essentials of Linguistics is suitable for any beginning learner of linguistics but is primarily aimed at the Canadian learner, focusing on Canadian English for learning phonetic transcription, and discussing the status of Indigenous languages in Canada. Drawing on best practices for instructional design, Essentials of Linguistics is suitable for blended classes, traditional lecture classes, and for self-directed learning. No prior knowledge of linguistics is required.
Author: Catherine Anderson, McMaster University
Original source: ecampusontario.pressbooks.pub
Adoptions: Tell us you are using this Open Textbook
Adaptations: Support for adapting an open textbook
Need help? Visit our help page
Accessibility: Textbooks flagged as accessible meet the criteria noted on the Accessibility Checklist
Open Textbooks:

Essentials of Linguistics by Catherine Anderson, McMaster University is licensed under a Creative Commons Attribution-ShareAlike 4.0 International License, except where otherwise noted.
---