This project update covers the fourth quarter (Jan-Mar) which includes the wrap-up to the Business ZTC initiative and the following activities:
The Business Administration ZTC at Douglas College is underway. A blog post was written this quarter to highlight the project.
The Marketing OER projects have been wrapping up this quarter.
A new grant ($8,000 + $1,000 existing) was awarded to Yukon University for the adaptation of Business Statistics to a Northern context.
A new grant ($5,000) was awarded to Andrea Niosi, author of the new Consumer Behaviour book, to develop ancillary material for the open textbook.
Honourariums ($1000) were awarded to students for Andrea Niosi's Internal Marketing Communications Guide final publication steps.
The Tourism and Hospitality – 2nd Edition open textbook has been adopted across several institutions and an updated version of the book that includes H5P activities is in publication.
The 3rd and final Business Advisory Group meeting was held in March.
Activity Last Quarter
Goals that were met, decisions made, milestones met, etc.
In February, Krista Lambert and Florence Daddey (Douglas College) presented at the Business department meeting at North Island College to discuss OER in Business and the ZTC project.
The following is a summary of the Business ZTC projects:
1) Consumer Behaviour
Textbook development is complete and in production with BCcampus. Andrea Niosi was awarded an additional grant to develop the ancillary material to accompany the textbook including essay questions, quizzes and instructor material. These ancillaries will be available by Sept. 2021.
In addition to the Consumer Behaviour book, Andrea Niosi has developed a Internal Marketing Communications Guide for non-profits with her students. The guide requires some final editing for publication so BCcampus has provided honourariums to help with this effort.
2) Developing a Marketing Plan
This project was cancelled due to constraints associated with the Covid-19 pandemic.
3) Digital Marketing
The project is near completion, however, the author has been awarded a grant to develop H5P interactions for the book which will take place over the summer semester. It is expected that a complete book will be available and published by Sept. 2021.
4) Principles of Marketing Question Bank
The project is complete and the question bank is now available in the BCcampus collection. Interest in development for the Principles of Marketing textbook continues in BC. An H5P project is underway to develop activities for the textbook and a project at KPU is looking at adaption or developing and intro to marketing textbook.
5) ZTC Business Administration Certificate
The Business Administration ZTC is under development. From a recently submitted interim report, the following progress has been made:
Project planning
Workshop facilitated by Jennifer Kirket
Advisory Group was formed
Approval to adapt the open textbook: Business Fundamentals (e-campus Ontario)
Ongoing textbook review and compiling of OER
A news release was published this quarter announcing the grant.
6) New Project: Business Statistics
A grant has been awarded to Yukon University to adapt the Openstax open textbook: Business Statistics. The project is being led by Lisa Kanary who will be working with co-op students over the summer term to update the book. Adaptations will include: Northern context to examples, updated ancillaries and quiz question development.
7) Tourism and Hospitality in BC – 2nd Edition
Since the 2nd edition was published last fall, the editors of the book were awarded an H5P grant to develop interactivities for the textbook. The updated version will be available soon in the BCcampus open textbook collection.
Project Wrap-up
The following is a summary of the Business ZTC project activity including the development of the first ZTC in a business program in BC: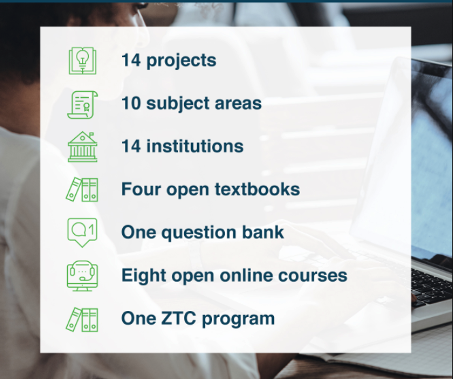 Recommendations
With the conclusion of the Business ZTC project, the following are some reflections and recommendations for future Business development and focus:
There has been significant momentum with respect to OER and Business subjects. The work that has been done as part of the Business ZTC project but there is work underway at institutions through institutional grants that is helping to build on the available resources.
Like other subject areas, a major barrier to OER adoption in Business relates to the lack of available ancillaries. Business faculty are often teaching in addition to their work in the business field and have little time to prepare materials for teaching. Having a full course package available could help to encourage more OER use. Business cases, simulations and homework systems are costs to students above and beyond the textbook costs.
There are a number of business OER that are from the US. There is a need for OER to be adapted for a Canadian context. There are examples of work being done to address this: TRU is developing a series of Indigenous case studies for marketing and Yukon University is adapting an OER for Northern context.
We continue to see some resistance toward OER adoption from Accounting departments and faculty. The concerns range from ensuring that the OER meet accreditation requirements with CPA to questions about quality and a fundamental belief in the commercial publishing model of profit generation. More targeted communication and success stories are needed in order to demonstrate the benefits and possibilities to use OER.
Links and Resources
Include links to useful/related info such as slides from an update meeting, related projects or other resources of interest.
Business ZTC Advisory Group Slides (2021)
Principles of Marketing Question Bank
Blog Post: OER Grant Awarded to Douglas College for ZTC in Business Program