Faculty
Adopt
a Textbook
Let us know if you have adopted an open textbook. Or, if you are looking for resources on how to adopt a textbook, we have some resources to help.
Student Savings: $2,129,053 - $2,710,347
Adoptions: 773
Participating Institutions: 31
Featured Textbook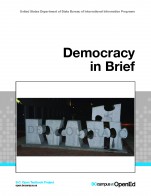 Democracy in Brief
Democracy in Brief touches on topics such as rights and responsibilities of citizens, free and fair elections, the rule of law, the role of a written constitution, separation of powers, a free media, the role of parties and interest groups, military-civilian relations and democratic culture. More..