Browse Our Collection
Important notice: open textbooks are moving
The B.C. Open Textbook Collection will be archived on February 1, 2024. Find textbooks and full course material packages in our new, strealined collection for educators.
Search the B.C. Open Textbook Collection
Find open textbooks
The B.C. Open Textbook Collection is home to a growing selection of open textbooks for a variety of subjects and specialties. Discover open textbooks that have been reviewed by faculty, meet our accessibility requirements, and/or include ancillary materials (quizzes, test banks, slides, videos, etc.).
Getting Started
Latest Additions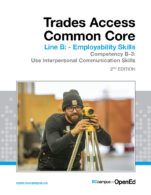 Trades Access Common Core Competency B-3: Use Interpersonal Communication Skills – 2nd Edition
Apr 13, 2022
Find open course materials
The Open Online Collection provides course materials, evaluation tools modules, and other resources that can be used to develop an open online course (OOC) with your institution's Learning Management System (LMS) that are freely accessible and openly licensed. These course materials can be used for teaching, learning, and assessment.
MARC Records
Gain access to machine-readable cataloguing (MARC) records for all of the resources in the B.C. Open Textbook Collection.
Find Other Collections
We've compiled a list of other collections to connect you with the open educational resources (OER) you may need for your institution.