Introduction to Criminal Investigation: Processes, Practices and Thinking
Posted: September 19, 2017 | Updated: October 1, 2021
Author: Rod Gehl, Justice Institute of British Columbia, Darryl Plecas, University of the Fraser Valley
Introduction to Criminal Investigation, Processes, Practices, and Thinking, as the title suggests, is a teaching text describing and segmenting criminal investigations into its component parts to illustrate the craft of criminal investigation. Delineating criminal investigation within the components of task-skills and thinking-skills, this book describes task-skills such incident response, crime scene management, evidence management, witness management, and forensic analysis, as essential foundations supporting the critical thinking-skills of offence validation and theory development for the creation of effective investigative plans aimed at forming reasonable grounds for belief. The goal of the text is to assist the reader in forming their own structured mental map of investigative thinking practices.
Subject Areas
Law/Criminal Justice, Law Enforcement
Original source
pressbooks.bccampus.ca
Adoptions:
Tell us you are using this Open Textbook
Adaptations:
Support for adapting an open textbook
Need help?
Visit our help page
Accessibility:
Textbooks flagged as accessible meet the criteria noted on the Accessibility Checklist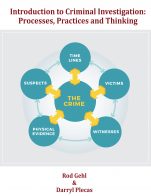 Get This Book
Select a file format

Introduction to Criminal Investigation: Processes, Practices and Thinking by Rod Gehl, Justice Institute of British Columbia, Darryl Plecas, University of the Fraser Valley is licensed under a Creative Commons Attribution-NonCommercial 4.0 International License, except where otherwise noted.
---
Request to review this textbook
Reviews (
1

) Avg:

4.8

/ 5
---
René R. Gadacz-Gould

Institution:Grande Prairie Regional CollegeTitle/Position: Instructor

Q: The text covers all areas and ideas of the subject appropriately and provides an effective index and/or glossary

I believe the text does cover almost all topics relevant to an introduction to criminal investigation. It provides a great overview, and of course the authors acknowledge that certain areas and ideas cannot be dealt with in detail. Within the parameters of what we understand as 'an introduction', the coverage is thorough and well thought-out.

I think that the distinction between the work done by a criminal investigator and the work done by, say, a homicide detective should be made more explicit. The investigator provides information to the detective as (s)he builds a case.

(I'm not sure if elsewhere in this review I am able to suggest a few other areas that could be covered in their introduction, but I will mention them here briefly: some mention of Québec's Civil Code and a more detailed discussion of the Youth Criminal Justice Act [it was mentioned for the first time only in Chapter 9]

There is no index or glossary for this textbook.

Comprehensiveness Rating: 4 out of 5

Q: Content is accurate, error-free and unbiased

There are diagrams and figures in the various chapters; they are very effective in presenting - often as a visual summary - details on approach, procedure, etc.

Content Accuracy Rating: 5 out of 5

Q: Content is up-to-date, but not in a way that will quickly make the text obsolete within a short period of time. The text is written and/or arranged in such a way that necessary updates will be relatively easy and straightforward to implement

I agree that the content is very up-to-date. Readers will appreciate references to recent criminal law cases to illustrate policy, procedure, and approaches to collecting information useful for building a case ready to take to court. Recent cases can easily be worked into the author's narrative. There is no way this text will become obsolete any time soon.

Relevance Rating: 5 out of 5

Q: The text is written in lucid, accessible prose, and provides adequate context for any jargon/technical terminology used

The prose is clean and crisp, right to the point. Short, clear sentences. Technical terms are often used repeatedly/are reiterated in a sequence of sentences as the authors build their explanation, explaining the term, how it is interpreted, and how it is applied.

Clarity Rating: 5 out of 5

Q: The text is internally consistent in terms of terminology and framework

The narrative is consistent and flows logically from subject area to subject area. The chapter sequence is logical.

Consistency Rating: 5 out of 5

Q: The text is easily and readily divisible into smaller reading sections that can be assigned at different points within the course (i.e., enormous blocks of text without subheadings should be avoided). The text should not be overly self-referential, and should be easily reorganized and realigned with various subunits of a course without presenting much disruption to the reader.

While the chapters are logically arranged, individual chapters can, if necessary, be read in a different order. There are no enormous blocks of text. The content of all chapters are subdivided into smaller sections. This is important if the reader wishes to spend more time on a particular section. That said, smaller sections arranged by topic within each chapter are very important because there is so much technical information to process; this processing needs to be in bite-size pieces.

Modularity Rating: 5 out of 5

Q: The topics in the text are presented in a logical, clear fashion

The subject areas/topics are arranged in a clear and logical fashion, as they must be in building an understanding of the processes and practices of gathering information and evidence to reconstruct a crime, a crime scene, and to put together an argument that is beyond a reasonable doubt in court.

Organization Rating: 5 out of 5

Q: The text is free of significant interface issues, including navigation problems, distortion of images/charts, and any other display features that may distract or confuse the reader

Images, figures, and so forth are used sparingly and effectively - only to illustrate a point, summarize the logical flow of ideas, or to show the connection between concepts. The reader is not overwhelmed with images and charts, which is a good thing.

Interface Rating: 5 out of 5

Q: The text contains no grammatical errors

Any book or text can use a proof-reader and this textbook is no exception. There are several spelling errors. Also -

- Why are there three sets of References? (pg. 159, 166, 175)
- the reference ' Advamag ' in the references is out of order
- when referencing the author ' Dostal ' for the same publication year (three references for 2006), should be 2006a, 2006b, 2006c

Grammar Rating: 4 out of 5

Q: The text is not culturally insensitive or offensive in any way. It should make use of examples that are inclusive of a variety of races, ethnicities, and backgrounds

There are no issues in regards to diversity and inclusion in this textbook.

As I mentioned at the beginning of this evaluation, there should be a (short?) discussion in an earlier chapter on Québec's Civil Code when the authors made reference to civil law. They could emphasize that while the Civil Code is in effect in Québec, it is the Criminal Code of Canada that has precedence (but maybe not always!) in criminal matters in that provide. In other words, it might be useful to point out that there are two legal systems in Canada.

As I also mentioned at the beginning, more could be included in reference to the Youth Criminal Justice Act and how young offenders/youth crime might be dealt with in criminal investigations (and not just in terms of interviewing youths [chapter 9]). Just a suggestion for the authors to think about, if applicable.

Cultural Relevance Rating: 5 out of 5

Q: Are there any other comments you would like to make about this book, for example, its appropriateness in a Canadian context or specific updates you think need to be made?

I highly recommend this book. I have no reservations. Taking the suggestions I have offered would be purely at the discretion of the authors.