Introduction to Criminal Investigation: Processes, Practices and Thinking
Posted: September 19, 2017 | Updated: May 10, 2019
Author: Rod Gehl, Justice Institute of British Columbia, Darryl Plecas, University of the Fraser Valley
Introduction to Criminal Investigation, Processes, Practices, and Thinking, as the title suggests, is a teaching text describing and segmenting criminal investigations into its component parts to illustrate the craft of criminal investigation. Delineating criminal investigation within the components of task-skills and thinking-skills, this book describes task-skills such incident response, crime scene management, evidence management, witness management, and forensic analysis, as essential foundations supporting the critical thinking-skills of offence validation and theory development for the creation of effective investigative plans aimed at forming reasonable grounds for belief. The goal of the text is to assist the reader in forming their own structured mental map of investigative thinking practices.
Subject Areas
Law/Criminal Justice, Law Enforcement
Original source
pressbooks.bccampus.ca
Adoptions:
Tell us you are using this Open Textbook
Adaptations:
Support for adapting an open textbook
Need help?
Visit our help page
Accessibility:
Textbooks flagged as accessible meet the criteria noted on the Accessibility Checklist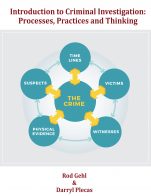 Get This Book
Select a file format

Introduction to Criminal Investigation: Processes, Practices and Thinking by Rod Gehl, Justice Institute of British Columbia, Darryl Plecas, University of the Fraser Valley is licensed under a Creative Commons Attribution-NonCommercial 4.0 International License, except where otherwise noted.
---
There are currently no reviews for this book.
Be the first to request to review this textbook
---