Digital Foundations
Posted: June 24, 2014 | Updated: January 12, 2022
Author: Xtine Burrough, Michael Mandiberg
THIS BOOK WILL BE ARCHIVED ON JUNE 1ST 2022 AS IT NO LONGER MEETS OUR QUALITY STANDARDS. AFTER THIS DATE, YOU WILL BE ABLE TO FIND THE TEXTBOOK IN THE OER BY DISCIPLINE DIRECTORY (https://opentextbc.ca/oerdiscipline/chapter/design/). This book was written by two artist educators who teach digital art and design studio foundation classes. While teaching classes that take place in software laboratories, we noticed that many of our students expected to learn to use software, but gave little consideration to aesthetics or art and design history. A typical first day question is, "Are we going to learn Photoshop in this class?" This book is a mash-up of the Bauhaus Basic Course and open source software such as Inkscape, Gimp, Firefox, and Processing. We have taken some of the visual principles and exercises from the Bauhaus Basic Course and adapted them into exercises for these applications.
Subject Areas
Art and Design, Design
Original source
archive.flossmanuals.net
Adoptions:
Tell us you are using this Open Textbook
Adaptations:
Support for adapting an open textbook
Need help?
Visit our help page
Accessibility:
Textbooks flagged as accessible meet the criteria noted on the Accessibility Checklist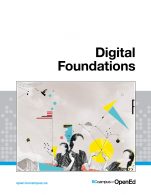 Get This Book
Select a file format

license information currently unavailable from https://api.creativecommons.org/rest/1.5/
---
There are currently no reviews for this book.
Be the first to request to review this textbook
---