Find Open Textbooks
College Algebra: OpenStax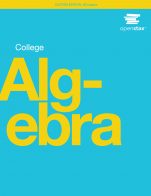 Description: Published by OpenStax College, College Algebra provides a comprehensive and multi-layered exploration of algebraic principles. The text is suitable for a typical introductory Algebra course, and was developed to be used flexibly. The modular approach and the richness of content ensures that the book meets the needs of a variety of programs. College Algebra guides and supports students with differing levels of preparation and experience with mathematics. Ideas are presented as clearly as possible, and progress to more complex understandings with considerable reinforcement along the way. A wealth of examples – usually several dozen per chapter – offer detailed, conceptual explanations, in order to build in students a strong, cumulative foundation in the material before asking them to apply what they've learned.
Author: Jay Abramson, Arizona State University
Adoptions (faculty): Contact us if you are using this textbook in your course
Adaptations: Support for adapting an open textbook
Need help? Visit our Help page for FAQ and helpdesk assistance
Accessibility: Textbooks flagged as accessible meet the criteria noted on the Accessibility Checklist
Open Textbooks:

College Algebra: OpenStax by Jay Abramson, Arizona State University is licensed under a Creative Commons Attribution 4.0 International License, except where otherwise noted.
---
1. Reviewed by:

Josh Giesbrecht

Institution: University of the Fraser Valley
Title/Position: Sessional Instructor
Overall Rating:

4.2

out of

5

Date:
License:

Q: The text covers all areas and ideas of the subject appropriately and provides an effective index and/or glossary

College Algebra is one of a number of ABE / 1st year level math texts from OpenStax. I originally wanted to consider this text for a BC PreCalculus 12 equivalent course (UFV's MATH 096), but this text does not cover the Trigonometry unit at all. For courses needing any form of Trigonometry, you can look at either 'PreCalculus: OpenStax' or 'Algebra and Trigonometry: OpenStax' instead. (The units shared between the texts are identical.)

For a course leading into a department-specialized Calculus course that does not require Trigonometry at all, this text could be a good fit. Aside from missing trig, the text has complete and solid coverage of the rest of the material needed.

The text does provide an effective index and glossary. For the web edition, glossary information is found at the end of every section, rather than in a separate section at the end of the table of contents.

Comprehensiveness Rating: 2 out of 5

Q: Content is accurate, error-free and unbiased

I cannot comment with great certainty on whether the text is error-free, as I was not able to make use of it for the class I originally intended. However the material I reviewed was well-written, clear, and provided a balanced perspective on topics where individual instructor approaches may vary.

Content Accuracy Rating: 4 out of 5

Q: Content is up-to-date, but not in a way that will quickly make the text obsolete within a short period of time. The text is written and/or arranged in such a way that necessary updates will be relatively easy and straightforward to implement

The content was up-to-date, and web content would be easy to update; I would also presume that the print-like PDF edition would be easy for them to edit as they seem to have gone to the effort to create a good content workflow for generating the text.

Relevance Rating: 5 out of 5

Q: The text is written in lucid, accessible prose, and provides adequate context for any jargon/technical terminology used

I was very impressed with the clarity provided in the text's writing and content layout. New concepts are given a concise but informative introduction, followed by a summary of steps to take to apply the new concept. Q&A sections discuss common misconceptions, again in an accurate but concise manner. Jargon is highlighted in bold and defined when first used, and each section also includes a glossary.


Clarity Rating: 4 out of 5

Q: The text is internally consistent in terms of terminology and framework

I believe it is, based on the content reviewed.

Consistency Rating: 4 out of 5

Q: The text is easily and readily divisible into smaller reading sections that can be assigned at different points within the course (i.e., enormous blocks of text without subheadings should be avoided). The text should not be overly self-referential, and should be easily reorganized and realigned with various subunits of a course without presenting much disruption to the reader.

The text is indeed divided into appropriately-sized subsections and should be easy to work with to assign different sections as the course progresses.


Modularity Rating: 5 out of 5

Q: The topics in the text are presented in a logical, clear fashion

The topics are presented in a sequence appropriate for the material.

The web edition makes good use of the medium by hiding all answers to questions, including Q&A questions and worked examples, behind a simple click-to-reveal prompt. This unclutters the page for the reader while giving the student time to work out problems without immediately scanning through to the result.

One caveat here: the online web edition does not number any of the review exercises, presumably because the solutions can be seen right beside the question with a simple click. If assigning particular practice problems, though, be aware that question numbers are only in the PDF / print edition.

Organization Rating: 5 out of 5

Q: The text is free of significant interface issues, including navigation problems, distortion of images/charts, and any other display features that may distract or confuse the reader

Not only was the interface free of issues, but it made good use of the web medium for simple interactivity by hiding solutions and discussion 'answers' behind a click-to-reveal.

Math typesetting worked well on the web edition, as well as looking good in PDF. Graphs are large and clear.

Interface Rating: 5 out of 5

Q: The text contains no grammatical errors

There were no grammatical errors that I found.

Grammar Rating: 5 out of 5

Q: The text is not culturally insensitive or offensive in any way. It should make use of examples that are inclusive of a variety of races, ethnicities, and backgrounds

The text includes example characters of a variety of ethnicities. It does not specifically provide Indigenous perspectives.

Cultural Relevance Rating: 3 out of 5

Q: Are there any other comments you would like to make about this book, for example, its appropriateness in a Canadian context or specific updates you think need to be made?

As with many precalc textbooks from the US, the ordering of content, and especially the absence of trigonometry from an 'Algebra' course, makes this textbook the wrong pick unless your course is tailored for students entering a trig-free field of study. (As mentioned earlier, OpenStax has a 'PreCalculus' text that includes a wider scope which you could pick and choose from instead.)

The text tends towards minimalist descriptions of the content, which is mostly good in that it's less overwhelming for the student. However I would only use this text with the assumption that important new concepts will get a more in-depth treatment during class.

Exercises included may be on the too-easy side, depending on the level of complexity you prefer to quiz students at.