Find Open Textbooks
Business Math: A Step-by-Step Handbook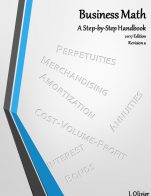 Description: Business math is the study of mathematics required by the field of business. Business professionals will work with taxes, gross earnings, product prices, and currency exchange; they will be offered loans, lines of credit, mortgages, leases, savings bonds, and other financial tools. This textbook covers all of these topics and how these financial tools can maximize their earnings and minimize their costs. It also discusses how to execute smart monetary decisions both personally and for their business. There are two versions for this book: The "Basic Edition" and the "Premium Edition." While they cover the same content, the Premium Edition includes additional features such as Excel integration, Excel templates, Excel screenshots, along with lots of extra visuals and graphics to help student wrap their heads around the numbers, procedures, and concepts that they work with. The Basic Edition does not include Excel and those extra visuals and graphics in order to streamline the book.
Author: Jean-Paul Olivier; Red River College of Applied Arts, Science, & Technology
Adoptions (faculty): Contact us if you are using this textbook in your course
Adaptations: Support for adapting an open textbook
Need help? Visit our Help page for FAQ and helpdesk assistance
Accessibility: Textbooks flagged as accessible meet the criteria noted on the Accessibility Checklist
Open Textbooks:

Business Math: A Step-by-Step Handbook by Jean-Paul Olivier; Red River College of Applied Arts, Science, & Technology is licensed under a Creative Commons Attribution-NonCommercial-ShareAlike 4.0 International License, except where otherwise noted.
---