Find Open Textbooks
Antología Abierta de Literatura Hispana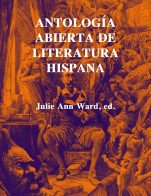 Description: Una antología crítica de textos literarios del mundo hispanohablante. Se enfoca en autores canónicos y también se intenta incluir voces marginadas. Cada texto tiene una introducción y anotaciones creadas por estudiantes. // A critical anthology of literary texts from the Spanish-speaking world. A focus on canonical authors and an attempt to include voices that have been marginalized. Each text includes an introduction and annotations created by students.
Author: Julie Anne Ward (ed.)
Original source: press.rebus.community
Adoptions (faculty): Contact us if you are using this textbook in your course
Adaptations: Support for adapting an open textbook
Need help? Visit our Help page for FAQ and helpdesk assistance
Accessibility: Textbooks flagged as accessible meet the criteria noted on the Accessibility Checklist
Open Textbooks:

Antología Abierta de Literatura Hispana por Julie Anne Ward (ed.) se encuentra bajo una Licencia Creative Commons Atribución 4.0 Internacional, except where otherwise noted.
---