Find Open Textbooks
Global Women's Issues: Women in the World Today, extended version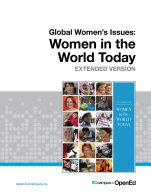 Description: We cannot solve global challenges unless women participate fully in efforts to find solutions. Female participation in the private sector is a crucial economic driver for societies worldwide. Economic security benefits every facet of a woman's life, with positive effects on the health, education and vitality of families. Learn about women who are changing their societies for the better. This book is based on the twelve critical areas of concern identified in the Beijing Declaration and Platform for Action at the Fourth World Conference on Women in Beijing in 1995: The burden of poverty on women, unequal access to education and training, inequalities and inadequacies in and unequal access to health care and related services, violence against women, the effects of armed or other kinds of conflict on women, including those living under foreign occupation, inequality in economic structures and policies, inequality between men and women in the sharing of power and decision-making at all levels, insufficient mechanisms at all levels to promote the advancement of women, lack of respect for and inadequate promotion and protection of the human rights of women, stereotyping of women and inequality in women's access to and participation in all communication systems, especially in the media, gender inequalities in the management of natural resources and in the safeguarding of the environment, and persistent discrimination against and violation of the rights of the girl child. This extended version of Global Women's Issues: Women in the World Today includes, for each chapter, a summary, key words, multiple choice questions, discussion questions, essay questions, and a list of additional resources. Copies of the original book are also available in Arabic, Portuguese, and Spanish.
Author: United States Department of State, Bureau of International Information Programs , Dr. Janni Aragon, Dr. Mariel Miller, University of Victoria
Original source: publications.america.gov
Adoptions (faculty): Contact us if you are using this textbook in your course
Adaptations: Support for adapting an open textbook
Need help? Visit our Help page for FAQ and helpdesk assistance
Accessibility: Textbooks flagged as accessible meet the criteria noted on the Accessibility Checklist
Open Textbooks:

To the extent possible under law, United States Department of State, Bureau of International Information Programs , Dr. Janni Aragon, Dr. Mariel Miller, University of Victoria has waived all copyright and related or neighboring rights to Global Women's Issues: Women in the World Today, extended version, except where otherwise noted.
---
1. Reviewed by:

Josh Labove

Institution: Simon Fraser University
Title/Position: Sessional Lecturer & Teaching Assistant
Overall Rating:

4.4

out of

5

Date:
License:

Q: The text covers all areas and ideas of the subject appropriately and provides an effective index and/or glossary

It's hard to imagine being fully comprehensive on a topic as broad as 'Women in the World Today'. There is, naturally, much to say and the text does a good job of hitting on a broad range of topics under the general umbrella of 'women' and 'the world'. I am especially pleased content on media and environment--by no means uncommon, but still welcome inclusions in a text that surveys more than it analyzes with great depth. The text is at least vaguely political--produced by the Clinton US State Department--and focuses on US interests in the Global South. Instructors looking to interrogate modern hegemonic masculinities in a North American context may find the text comes up short.

Comprehensiveness Rating: 3 out of 5

Q: Content is accurate, error-free and unbiased

So much of the text is a broad set-up of key issues centred around case studies and narrative examples. This is more a critique of comprehensiveness than it is accuracy, as the material is true, error-free, and accurate, but holding so much of the text together on anecdotal examples and case studies means that there is bound to be a bias, given the simple fact of selection.

"Women in the World" has a clear bias toward parts of the world where US intervention has made a marked difference and the examples and case studies tend to be women from non-democratic states. Had the US turned the text back to reflect on American society, the text could have been even more instructive. Instructors will have to go elsewhere to get illustrations of women in a Western context.

Content Accuracy Rating: 4 out of 5

Q: Content is up-to-date, but not in a way that will quickly make the text obsolete within a short period of time. The text is written and/or arranged in such a way that necessary updates will be relatively easy and straightforward to implement

The text is a broad review of gender issues largely in the developing world--the case studies are largely anecdotal and reflective. Hilary Clinton may no longer be Secretary of State as she was when she authored she introduction, but the sentiments are introductory in nature and allow the text to serve as a useful foundation to issues of women's rights in a global context.

Relevance Rating: 5 out of 5

Q: The text is written in lucid, accessible prose, and provides adequate context for any jargon/technical terminology used

This is first and foremost not a highly technical piece--it was likely made with multiple audiences in mind--and so the result is a text that is concise, clear, and jargon-free.

Clarity Rating: 5 out of 5

Q: The text is internally consistent in terms of terminology and framework

The text is very concise--more of a pamphlet really--but it does have a clear organizational framework. Each chapter is essentially a short summary and review alongside a profile of female leader and a project making a difference on this particular facet. In this way, readers are set up first to understand the issue, meet a persevering woman working to remedy challenges on behalf of women, and then to learn of a particular project--usually USAID-funded--that is working to advance women's rights--making cities safe for women, averting child marriage. The overviews are broad and survey-based, while the profiles and project case studies are investigate these issues in a particular part of the world.

Consistency Rating: 5 out of 5

Q: The text is easily and readily divisible into smaller reading sections that can be assigned at different points within the course (i.e., enormous blocks of text without subheadings should be avoided). The text should not be overly self-referential, and should be easily reorganized and realigned with various subunits of a course without presenting much disruption to the reader.

Given the consistency of the text and the breadth of the text, it would be very easy to break the text in to smaller sections. Since the text is so brief in its entirety, instructors might be best served to find a particular module or chapter of interest to their teaching rather than trying to use the full text from cover to cover. Each individual chapter would fit well in to a larger syllabus and reading assignment.

Modularity Rating: 5 out of 5

Q: The topics in the text are presented in a logical, clear fashion

Yes. Each chapter features and overview, a profile, and a case study. It's all very logical. That said, the text is very focused on 'rights' without being specific or clear about what rights are or how they function. Again, pulling material out of the text and complementing it with material on rights would be useful.

Organization Rating: 4 out of 5

Q: The text is free of significant interface issues, including navigation problems, distortion of images/charts, and any other display features that may distract or confuse the reader

The text can be read from the US Department of State website, with a lot of back and forward clicking for a short text. The full pdf download is more readable, particularly when trying to reference the associated profiles and case studies.

Interface Rating: 3 out of 5

Q: The text contains no grammatical errors

There were no grammatical errors that I could find.

Grammar Rating: 5 out of 5

Q: The text is not culturally insensitive or offensive in any way. It should make use of examples that are inclusive of a variety of races, ethnicities, and backgrounds

The text is free of any cultural insensitivities.

Cultural Relevance Rating: 5 out of 5

Q: Are there any other comments you would like to make about this book, for example, its appropriateness in a Canadian context or specific updates you think need to be made?