Find Open Textbooks
Pressbooks Guide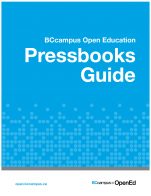 Description: This Pressbooks Guide does not replicate information provided by the Pressbooks Userguide published by Pressbooks.com. Instead, in parts and chapters laid out to mimic the steps an author might take to create or modify an open textbook in Pressbooks, it redirects readers to pertinent chapters in the Pressbooks Userguide, supplements it with additional information, and includes instructions specific to post-secondary faculty and staff working in British Columbia and the Yukon.
Author: Lauri Aesoph, BCcampus
Original source: opentextbc.ca
Adoptions (faculty): Contact us if you are using this textbook in your course
Adaptations: Support for adapting an open textbook
Need help? Visit our Help page for FAQ and helpdesk assistance
Accessibility: Textbooks flagged as accessible meet the criteria noted on the Accessibility Checklist
Open Textbooks:

Pressbooks Guide by Lauri Aesoph, BCcampus is licensed under a Creative Commons Attribution 4.0 International License, except where otherwise noted.
---