Find Open Textbooks
Line A: Safe Work Practices Competency: A-4 Describe Personal Safety Practices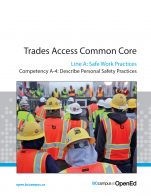 Description: These Learning Tasks describe the clothing and protective equipment workers must wear on the job site and the safety precautions they must take to protect themselves and others from injury. Special personal protective equipment (PPE) is required on the job site. The equipment used will depend on the hazards anticipated. When working at elevations, significant hazards are present and fall protection is normally required. Knowing the hazards allows workers to select methods to reduce the hazard and prevent injury. Workers often lift and move heavy and awkward objects. Failure to follow proper lifting procedures can cause serious and permanent back damage. The following list of lines and competencies was generated with the goal of creating an entry-level trades training resource, while still offering the flexibility for lines to be used as stand-alone books. Line A Books include: A-1 Control Workplace Hazards, A-2 Describe WorkSafeBC Regulations, A-3 Handle Hazardous Materials Safely, A-4 Describe Personal Safety Practices, A-5 Describe Fire Safety. Special thanks to CAPER-BC (https://caperbc.ca/) for creating the audio recording of Competency A-4.
Author: Camosun College
Adoptions (faculty): Contact us if you are using this textbook in your course
Adaptations: Support for adapting an open textbook
Need help? Visit our Help page for FAQ and helpdesk assistance
Accessibility: Textbooks flagged as accessible meet the criteria noted on the Accessibility Checklist
Open Textbooks:

Line A: Safe Work Practices Competency: A-4 Describe Personal Safety Practices by Camosun College is licensed under a Creative Commons Attribution 4.0 International License, except where otherwise noted.
---
1. Reviewed by:

Marte Arreola

Institution: BC Institute of Technology
Title/Position: Chief Instructor Machinist Trade
Overall Rating:

4.9

out of

5

Date:
License:

Q: The text covers all areas and ideas of the subject appropriately and provides an effective index and/or glossary

It has a Table of Contents, Introduction and Objectives.
I was not able to find an Index or Glossary.
It is nice to have links to WorkSafeBC.

Comprehensiveness Rating: 5 out of 5

Q: Content is accurate, error-free and unbiased

Yes, Well done with nice images. It is presented in a simple and clear form.

Content Accuracy Rating: 5 out of 5

Q: Content is up-to-date, but not in a way that will quickly make the text obsolete within a short period of time. The text is written and/or arranged in such a way that necessary updates will be relatively easy and straightforward to implement

Yes is up-to-date. Having the digital format can facilitate the update if necessary or when new upgrades are available.

Relevance Rating: 5 out of 5

Q: The text is written in lucid, accessible prose, and provides adequate context for any jargon/technical terminology used

Yes, even the formatting is well done.
Simple and clear and related to the topics.

Clarity Rating: 5 out of 5

Q: The text is internally consistent in terms of terminology and framework

Yes, three different task with subcategories on each task, and objectives to each individual task. Good structure.

Consistency Rating: 5 out of 5

Q: The text is easily and readily divisible into smaller reading sections that can be assigned at different points within the course (i.e., enormous blocks of text without subheadings should be avoided). The text should not be overly self-referential, and should be easily reorganized and realigned with various subunits of a course without presenting much disruption to the reader.

Well designed, one suggestion is to have the footnote to mention the learning task
There are three learning tasks for this Line A-4

Modularity Rating: 4 out of 5

Q: The topics in the text are presented in a logical, clear fashion

Yes, it has the appropriate flow for the context and it is related to the topic.

Organization Rating: 5 out of 5

Q: The text is free of significant interface issues, including navigation problems, distortion of images/charts, and any other display features that may distract or confuse the reader

Yes, images present excellent quality and labels.
Easy to find information.


Interface Rating: 5 out of 5

Q: The text contains no grammatical errors

I was no able to find any errors.

Grammar Rating: 5 out of 5

Q: The text is not culturally insensitive or offensive in any way. It should make use of examples that are inclusive of a variety of races, ethnicities, and backgrounds

I was not able to find any text or images offensive or insensitive.

Cultural Relevance Rating: 5 out of 5

Q: Are there any other comments you would like to make about this book, for example, its appropriateness in a Canadian context or specific updates you think need to be made?

I am really pleased to see an upgrade of the textbook. The text makes a reference to WorkSafeBC and includes links to the website corresponding. Nice to see images with an excellent quality and labels.
As I mention before, the footnote should correspond to the Learning tasks to provide a better guide to the reader.
Well done.