Find Open Textbooks
OER by Discipline Guide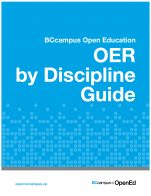 Description: The BCcampus Open Education OER by Discipline Guide is an in-progress (open creation) this lists a broad range of open educational resources organized by discipline. The purpose of this guide is to capture as many OER as possible -- case studies, courses, games, repositories, simulations, textbooks, videos, and more -- and organize them so faculty can easily locate resources in their subject area. This guide will be updated as new resources are identified.
Author: Josie Gray, BCcampus (Editor), Lauri Aesoph, BCcampus
Original source: opentextbc.ca
Adoptions (faculty): Contact us if you are using this textbook in your course
Adaptations: Support for adapting an open textbook
Need help? Visit our Help page for FAQ and helpdesk assistance
Accessibility: Textbooks flagged as accessible meet the criteria noted on the Accessibility Checklist
Open Textbooks:

OER by Discipline Guide by Josie Gray, BCcampus (Editor), Lauri Aesoph, BCcampus is licensed under a Creative Commons Attribution 4.0 International License, except where otherwise noted.
---