Find Open Textbooks
OER by Discipline Guide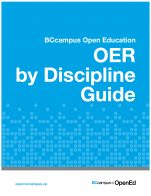 Description: The BCcampus Open Education OER by Discipline Guide lists a wide range of open educational resources organized by discipline. It acts as a referratory where the name of the resource, a link to where it can be accessed, its licence, and then a short description are provided. Discipline-specific collections are also included. Because this guide is updated frequently, as new resources are identified, files for the guide are not provided (but can be requested). Note that textbooks in the B.C. Open Textbook Collection are not included in this guide.
Author: Josie Gray, BCcampus (Editor)
Original source: opentextbc.ca
Adoptions: Tell us you are using this Open Textbook
Adaptations: Support for adapting an open textbook
Need help? Visit our help page
Accessibility: Textbooks flagged as accessible meet the criteria noted on the Accessibility Checklist
Open Textbooks:
WEBSITE Read guide online
WEBSITE Versioning History
WEBSITE Request additional files: helpdesk@bccampus.ca

OER by Discipline Guide by Josie Gray, BCcampus (Editor) is licensed under a Creative Commons Attribution 4.0 International License, except where otherwise noted.
---