Find Open Textbooks
Adult Literacy Fundamentals Mathematics: Book 2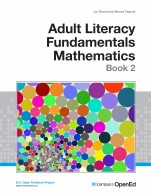 Description: This is book two in a six-book series on fundamental mathematics for adult learners. These books include glossaries, self tests, practice requests, grades records, and unit tests. Ancillary Resources include the Instructor's Manual.
Author: Wendy Tagami, Liz Girard
Original source: urls.bccampus.ca
Adoptions (faculty): Contact us if you are using this textbook in your course
Adaptations: Support for adapting an open textbook
Need help? Visit our Help page for FAQ and helpdesk assistance
Accessibility: Textbooks flagged as accessible meet the criteria noted on the Accessibility Checklist
Open Textbooks:

Adult Literacy Fundamentals Mathematics: Book 2 by Wendy Tagami, Liz Girard is licensed under a Creative Commons Attribution 4.0 International License, except where otherwise noted.
---