Find Open Textbooks
BC Reads: Adult Literacy Fundamental English - Course Pack 3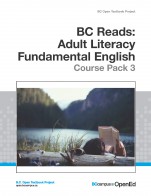 Description: This course pack is designed to meet the learning outcomes for Adult Literacy Fundamental English Level 3 (roughly equivalent to grades 3 to 4.5 in the K-12 system). Every chapter within the three units includes a level-appropriate, high-interest reading of between 350 and 500 words. The readings are freely available in a separate reader with convenient links to the readings in each chapter of this course pack. For students using this program in a self-paced format, there are audio clips embedded throughout the course pack. These clips narrate the denser sections of text. Font size and line spacing can be adjusted in the online view, and have been enhanced for the print and PDF versions for easier reading. This course pack has been reviewed by subject experts from colleges and universities.
Author: Shantel Ivits, Vancouver Community College
Adoptions (faculty): Contact us if you are using this textbook in your course
Adaptations: Support for adapting an open textbook
Need help? Visit our Help page for FAQ and helpdesk assistance
Accessibility: Textbooks flagged as accessible meet the criteria noted on the Accessibility Checklist
Open Textbooks:

BC Reads: Adult Literacy Fundamental English - Course Pack 3 by Shantel Ivits, Vancouver Community College is licensed under a Creative Commons Attribution 4.0 International License, except where otherwise noted.
---
1. Reviewed by:

Joanna Lord

Institution: Vancouver Island University
Title/Position: Adult Basic Education Instructor
Overall Rating:

4.6

out of

5

Date:
License:

Q: The text covers all areas and ideas of the subject appropriately and provides an effective index and/or glossary

There is an effective and easy to understand table of contents at the beginning. Each unit has an accompanying Scope and Sequence that directly matches the ALFE Level 3 BC provincially articulated learning outcomes. There are easy to read writing rubrics in the appendix for students and instructors to clearly track progress for writing skills.

Comprehensiveness Rating: 4 out of 5

Q: Content is accurate, error-free and unbiased

The content provides clear and easy to read instructions. Each of the three units follows a similar format including: learning goals, learning strategy, reading strategy, word attack strategy, grammar rule and practice, and writing task.

Content Accuracy Rating: 5 out of 5

Q: Content is up-to-date, but not in a way that will quickly make the text obsolete within a short period of time. The text is written and/or arranged in such a way that necessary updates will be relatively easy and straightforward to implement

The content is relevant to the current Adult Literacy Fundamental English BC provincial learning outcomes for Level 3. The skills and strategies are tied to the stories in the accompanying Level 3 Reader, but could be adapted to other stories. It is also easy to launch other supplementary activities from the ones given, particularly if you have a multi-level class.

Relevance Rating: 5 out of 5

Q: The text is written in lucid, accessible prose, and provides adequate context for any jargon/technical terminology used

The text is clearly written in plain language with plenty of whitespace and a variety of visuals. This makes it easy for students to follow whether they are working in a group environment, or working on their own with minimal support.

Clarity Rating: 5 out of 5

Q: The text is internally consistent in terms of terminology and framework

The layout and terminology is consistent throughout this course pack. The three themes are: Mysteries in BC History, Snapshots of BC Culture, and Wild BC and they work well together.

Consistency Rating: 4 out of 5

Q: The text is easily and readily divisible into smaller reading sections that can be assigned at different points within the course (i.e., enormous blocks of text without subheadings should be avoided). The text should not be overly self-referential, and should be easily reorganized and realigned with various subunits of a course without presenting much disruption to the reader.

The units are each assigned to a specific story in the accompanying reader. They can be easily broken into smaller sections to be used independently, or with the reader. They are arranged so that you could pull out sections to focus on a particular skill.

Modularity Rating: 4 out of 5

Q: The topics in the text are presented in a logical, clear fashion

The topics are presented in a logical flow and provide enough scaffolding for students to move from an easier skill (writing a complete sentence) to a more challenging one (writing a paragraph). At the beginning of each unit is a list of Learning Goals that gives instructor and students a clear overview of what to expect in the unit. Each topic in the unit builds on practice done in the previous unit, so although you could break them into smaller sections/modules, the activities and strategies build on ones learned in the previous unit. There are also useful graphic organizers included within the units.

Organization Rating: 5 out of 5

Q: The text is free of significant interface issues, including navigation problems, distortion of images/charts, and any other display features that may distract or confuse the reader

The variety in sizes of headings and subheadings works well. At first students found navigating between the course reader and the course pack a little challenging, however they soon got used to it. In my experience having the course pack separate from the course reader makes it easier to photocopy sections.

Interface Rating: 4 out of 5

Q: The text contains no grammatical errors

The text contains no grammatical errors that I could find.

Grammar Rating: 5 out of 5

Q: The text is not culturally insensitive or offensive in any way. It should make use of examples that are inclusive of a variety of races, ethnicities, and backgrounds

The themes are relevant to a variety of diverse cultures. The first unit has a story about Sasquatches, which encouraged a very interesting discussion among students of different cultures. It also served as a jumping off point for further research on the subject with students practicing a variety of computer skills. Reading the stories aloud piqued interest and discussion among small groups of students, of different ethnicities and backgrounds, who were working on different projects at different levels.

Cultural Relevance Rating: 5 out of 5

Q: Are there any other comments you would like to make about this book, for example, its appropriateness in a Canadian context or specific updates you think need to be made?

My original plan was to use this course pack in my literacy class having them access it online through our campus D2L program, but this proved to be too challenging and frustrating for students. Instead I have been using it in paper format and this is working well for students at this level.

Written from a progressive Canadian, and particularly BC context, this course pack is relevant and enables students to make local connections.

I recommend this course pack and accompanying reader for use in literacy classes in the post secondary system as well as community adult literacy programs.