Find Open Textbooks
BC Reads: Adult Literacy Fundamental English - Reader 6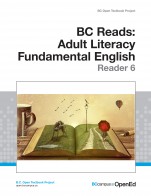 Description: This reader contains 11 original instructional essays written specifically for adults, and is designed to accompany the BC Reads: Adult Literacy Fundamental English - Course Pack 6. This level 6 reader, one of a series of six readers, is roughly equivalent to grades 7.5 to 9 in the K-12 system. New vocabulary are set in bold throughout each story, and then summarized and defined in a Glossary found in the appendix. Font size and line spacing can be adjusted in the online view, and have been enhanced for the print and PDF versions for easier reading. This reader has been reviewed by subject experts from colleges and universities.
Author: Shantel Ivits, Vancouver Community College
Adoptions (faculty): Contact us if you are using this textbook in your course
Adaptations: Support for adapting an open textbook
Need help? Visit our Help page for FAQ and helpdesk assistance
Accessibility: Textbooks flagged as accessible meet the criteria noted on the Accessibility Checklist
Open Textbooks:

BC Reads: Adult Literacy Fundamental English - Reader 6 by Shantel Ivits, Vancouver Community College is licensed under a Creative Commons Attribution 4.0 International License, except where otherwise noted.
---
1. Reviewed by:

Michelle Vandepol

Institution: University of the Fraser Valley
Title/Position: Instructor, Continuing Education Department & Hope Centre Coordinator
Overall Rating:

5

out of

5

Date:
License:

Q: The text covers all areas and ideas of the subject appropriately and provides an effective index and/or glossary

The text thoroughly covers all areas and ideas of the subjects of storytelling in a digital context.
The interspersed digital story spotlights are helpful in a variety of ways. They come with accompanying narrative explaining context to the reader. They provide project inspiration for the students and they also serve to excite the students about making their own videos.
The text draws on specific examples from the videos.
Listed activities give precise step by step details to ensure success. Regularly images are used to reinforce understanding.
The table of contents is well laid out and the reader is able to reference the table while reading the text.
Throughout the textbook, words which can be found in the glossary are highlighted. It is comprehensive.



Comprehensiveness Rating: 5 out of 5

Q: Content is accurate, error-free and unbiased

As an creative writing instructor and working writer as well as someone who has previously taken a Digital Storytelling class; I found this textbook accurate, concise, error-free, and easy to reference. It would have saved me a lot of time if it had been the text used in the Digital Storytelling for Educators class I took. The author also does a great job of show-casing a wide variety of voices and using language sensitive to all readers.

Content Accuracy Rating: 5 out of 5

Q: Content is up-to-date, but not in a way that will quickly make the text obsolete within a short period of time. The text is written and/or arranged in such a way that necessary updates will be relatively easy and straightforward to implement

Because of the clear, well-laid out structure, the book will be easy to edit if links to videos become obsolete or new software references need to be made. It condenses a large amount of new information to the reader in an accessible way and will likely result in a whole new skill set being learned by the end of the reading.

Relevance Rating: 5 out of 5

Q: The text is written in lucid, accessible prose, and provides adequate context for any jargon/technical terminology used

The text flows smoothly and students are referred back to their own projects throughout the text, making it engaging and informative read.
The glossary is comprehensive and each technical step is explained well, with additional video and image supports.
It is laid out in chronological order, helping students to build their digital storytelling project as they work through the text.


Clarity Rating: 5 out of 5

Q: The text is internally consistent in terms of terminology and framework

The same tone and approach is used throughout.
The structure is consistent in terms of formatting.
The videos are interspersed at regular interval and each build on the previous lesson.
The activities and learning processes (ie. "read instructions, answer check your understanding questions, and try the steps yourself") are consistent throughout.

Consistency Rating: 5 out of 5

Q: The text is easily and readily divisible into smaller reading sections that can be assigned at different points within the course (i.e., enormous blocks of text without subheadings should be avoided). The text should not be overly self-referential, and should be easily reorganized and realigned with various subunits of a course without presenting much disruption to the reader.

The text is evenly broken up into chapters that arrive in logical order and are easily found through an organized table of contents.
The text draws on a wide variety of reputable sources which are cited in the Bibliography.
Each chapter is nicely handled in terms of structure. It is concise, visually appealing with plenty of white space and similar sized paragraphs and sections throughout.


Modularity Rating: 5 out of 5

Q: The topics in the text are presented in a logical, clear fashion

The text takes the students through the components of storytelling using examples from digital storytelling videos, but does not add in video how-to instructions under later in the text.
This is valuable for the learner who is new to both storytelling and digital platforms and technologies.
The text presentation follows a clear and logical order.
Students are taking in a large amount of new information which goes beyond theory to new skills to acquire.
Because of this, it is essential that the text be clear, approachable, and in a building block format.
It is.

Organization Rating: 5 out of 5

Q: The text is free of significant interface issues, including navigation problems, distortion of images/charts, and any other display features that may distract or confuse the reader

The text is professionally presented.
All charts, images, and videos do not provide any interruptions in the reading.
They present as similar size and resolution making the reading experience flow smoothly.

Interface Rating: 5 out of 5

Q: The text contains no grammatical errors

The text is free of grammatical errors.

Grammar Rating: 5 out of 5

Q: The text is not culturally insensitive or offensive in any way. It should make use of examples that are inclusive of a variety of races, ethnicities, and backgrounds

This text does a great job of being inclusive in language throughout, even including the about the author section.
As well, it informs students through examples of a variety of races, ethnicities, and backgrounds by inclusion of video stories told in first person.

Cultural Relevance Rating: 5 out of 5

Q: Are there any other comments you would like to make about this book, for example, its appropriateness in a Canadian context or specific updates you think need to be made?

This text is a great resource for BC Post-secondary institutions, especially ones interested in promoting inclusive values and a variety of voices.
It would be appropriate to use in ABE Education and Career Planning, ABE Computer classes, Digital storytelling classes, and Introduction to Creative Writing Classes.