Find Open Textbooks
Line A: Safe Work Practices Competency A-5: Describe Fire Safety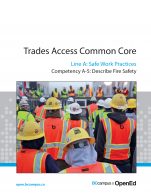 Description: As a trades worker you have a responsibility to work safely, and fire prevention is a primary concern. Many of the work tasks you carry out include the application of heat and flame. You should be able to apply fire prevention practices, identify fire causes, and identify and apply fire extinguishing agents to control or extinguish a fire. You are not expected to be an expert firefighter, but you may have to deal with a fire to protect your safety and the safety of others. The following list of lines and competencies was generated with the goal of creating an entry-level trades training resource, while still offering the flexibility for lines to be used as stand-alone books. Line A Books include: A-1 Control Workplace Hazards, A-2 Describe WorkSafeBC Regulations, A-3 Handle Hazardous Materials Safely, A-4 Describe Personal Safety Practices, A-5 Describe Fire Safety. Special thanks to CAPER-BC (https://caperbc.ca/) for creating the audio recording for each Competency.
Author: Camosun College
Adoptions (faculty): Contact us if you are using this textbook in your course
Adaptations: Support for adapting an open textbook
Need help? Visit our Help page for FAQ and helpdesk assistance
Accessibility: Textbooks flagged as accessible meet the criteria noted on the Accessibility Checklist
Open Textbooks:

Line A: Safe Work Practices Competency A-5: Describe Fire Safety by Camosun College is licensed under a Creative Commons Attribution 4.0 International License, except where otherwise noted.
---