Find Open Textbooks
Human Resources in the Food Service and Hospitality Industry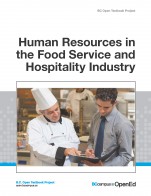 Description: Human Resources in the Food Services and Hospitality Industry is one of a series of Culinary Arts open textbooks developed to support the training of students and apprentices in British Columbia's foodservice and hospitality industry. Although created with the Professional Cook, Baker and Meatcutter programs in mind, these have been designed as a modular series, and therefore can be used to support a wide variety of programs that offer training in foodservice skills.
Author: The BC Cook Articulation Committee, go2HR
Adoptions (faculty): Contact us if you are using this textbook in your course
Adaptations: Support for adapting an open textbook
Need help? Visit our Help page for FAQ and helpdesk assistance
Accessibility: Textbooks flagged as accessible meet the criteria noted on the Accessibility Checklist
Open Textbooks:

Human Resources in the Food Service and Hospitality Industry by The BC Cook Articulation Committee, go2HR is licensed under a Creative Commons Attribution 4.0 International License, except where otherwise noted.
---
1. Reviewed by:

Amy Tucker

Institution: Thompson Rivers University
Title/Position: Lecturer
Overall Rating:

5

out of

5

Date:
License:

Q: The text covers all areas and ideas of the subject appropriately and provides an effective index and/or glossary

The text cover all the areas, ideas and topics that would be found in a strategic management course. The table of contents provides an overview of the subjects being covered. There is no glossary. Examples, case studies, and facts provided are current. Each chapter provides clear learning outcomes, key terms and definitions within the content. The book is quite comprehensive and would be useful in any human resource management course within the hospitality sector.

Comprehensiveness Rating: 5 out of 5

Q: Content is accurate, error-free and unbiased

The content in this textbook is accurate, up-to-date and and error-free. Figures, charts, pictures, tables, examples, facts and case studies provide real world examples. The content represents typical views of other scholars in this field. The book is professionally written and easy to follow. There are references for each chapter.

Content Accuracy Rating: 5 out of 5

Q: Content is up-to-date, but not in a way that will quickly make the text obsolete within a short period of time. The text is written and/or arranged in such a way that necessary updates will be relatively easy and straightforward to implement

The content is up-to-date, recent and relevant in terms of examples, facts, case studies and diagrams. Fundamental ideas and models are relevant. All content provides current references to modern day life and can be easily updated if needed.

Relevance Rating: 5 out of 5

Q: The text is written in lucid, accessible prose, and provides adequate context for any jargon/technical terminology used

The text is written in a professional manner. The content is written in a clear form of writing with straight forward examples and content. The style of the book is student friendly and engaging. All key terms are defined clearly and/or examples provided to explain the terms. It would be nice to have a glossary for quick review of key terms.

Clarity Rating: 5 out of 5

Q: The text is internally consistent in terms of terminology and framework

The text is internally consistent in terms of terminology and framework for understanding key concepts and is comparable to other texts in this subject area. The content has a clear direction that is easy to follow.

Consistency Rating: 5 out of 5

Q: The text is easily and readily divisible into smaller reading sections that can be assigned at different points within the course (i.e., enormous blocks of text without subheadings should be avoided). The text should not be overly self-referential, and should be easily reorganized and realigned with various subunits of a course without presenting much disruption to the reader.

The text content is divided into sections that could easily be used in a classroom or online learning environment. Learning outcomes provide the instructor an opportunity to create lessons and further reading around topics. Topics can also be moved to different parts of the curriculum in an easy manner that would relate to other sections of the book.

Modularity Rating: 5 out of 5

Q: The topics in the text are presented in a logical, clear fashion

The learning outcomes are clear and the summary with key points - provide a solid overview of what to expect and summarizes what has been covered. In addition, there are websites, video's and other references that could be useful to readers.

Organization Rating: 5 out of 5

Q: The text is free of significant interface issues, including navigation problems, distortion of images/charts, and any other display features that may distract or confuse the reader

The text flows well and does not have an interface issues. The book does not appear to be distracting or confusing. There are several sections that are bullet point - but this makes it easier to read and follow.

Interface Rating: 5 out of 5

Q: The text contains no grammatical errors

None found. The text is written in a professional manner. It is well written, easy to follow and clear.

Grammar Rating: 5 out of 5

Q: The text is not culturally insensitive or offensive in any way. It should make use of examples that are inclusive of a variety of races, ethnicities, and backgrounds

The text is not culturally insensitive or offensive in any way. The book is written from a Canadian perspective. Lots of Canadian examples, references and websites.

Cultural Relevance Rating: 5 out of 5

Q: Are there any other comments you would like to make about this book, for example, its appropriateness in a Canadian context or specific updates you think need to be made?

The book is appropriate for a human resource management course in the food service and hospitality industry within Canada. The material is professionally written, up-to-date and engaging. The learning outcomes are clear and provide an overview of each chapter. Visuals, examples, websites, and case studies provide further learning opportunities. Instructors will be able break up chapter(s) into sections and provide further readings or assignments around each of these items. The Canadian references will provide further value for learners.