Find Open Textbooks
Discover Psychology 2.0 - A Brief Introductory Text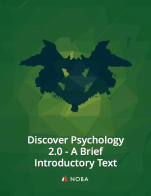 Description: This textbook presents core concepts common to introductory courses. The 15 units cover the traditional areas of intro-to-psychology; ranging from biological aspects of psychology to psychological disorders to social psychology. This book can be modified: feel free to add or remove modules to better suit your specific needs.
Author: Edward Diener, Robert Biswas-Diener (eds)
Original source: nobaproject.com
Adoptions (faculty): Contact us if you are using this textbook in your course
Adaptations: Support for adapting an open textbook
Need help? Visit our Help page for FAQ and helpdesk assistance
Accessibility: Textbooks flagged as accessible meet the criteria noted on the Accessibility Checklist
Open Textbooks:

Discover Psychology 2.0 - A Brief Introductory Text by Edward Diener, Robert Biswas-Diener (eds) is licensed under a Creative Commons Attribution-NonCommercial-ShareAlike 4.0 International License, except where otherwise noted.
---