Find Open Textbooks
Français Interactif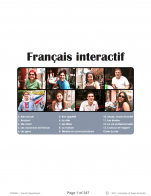 Description: Français Interactif, www.laits.utexas.edu/fi, the web-based French program developed and in use at the University of Texas since 2004, and its companion site, Tex's French Grammar (2000) www.laits.utexas.edu/tex/ are open acess sites, free and open multimedia resources, which require neither password nor fees. Français interactif, used increasingly by students, teachers, and institutions throughout the world, includes 320 videos (American students in France, native French interviews, vocabulary and culture presentation videos) recorded vocabulary lists, phonetic lessons, online grammar lessons (600 pages) with self-correcting exercises and audio dialogues, online grammar tools (verb conjugation reference, verb practice), and diagnostic grammar tests.
Author: Karen Kelton, Nancy Guilloteau, Carl Blyth
Original source: www.laits.utexas.edu
Adoptions (faculty): Contact us if you are using this textbook in your course
Adaptations: Support for adapting an open textbook
Need help? Visit our Help page for FAQ and helpdesk assistance
Accessibility: Textbooks flagged as accessible meet the criteria noted on the Accessibility Checklist
Open Textbooks:

Français Interactif de Karen Kelton, Nancy Guilloteau, Carl Blyth est mis à disposition selon les termes de la licence Creative Commons Attribution 4.0 Ceci peut être votre site web principal ou la page d'informations vous concernant sur une plate forme d'hébergement, comme Flickr Commons., except where otherwise noted.
---