Find Open Textbooks
Adoption Guide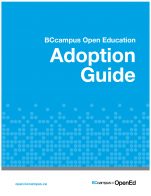 Description: This guide was created by BCcampus Open Education with the assistance of several faculty and staff that attended our Adoption Workshop Development Sprint on March 31-April 1, 2016, in Vancouver. We thank Caroline Daniels and Dr. Farhad Dastur (Kwantlen Polytechnic University), Inba Kehoe (University of Victoria), Dr. David Harper (University of the Fraser Valley), Lucas Wright (UBC), and Gail Morong (Thompson Rivers University). This guide continues to be an ever evolving resource that will be updated as required.
Author: Lauri Aesoph, BCcampus
Adoptions (faculty): Contact us if you are using this textbook in your course
Adaptations: Support for adapting an open textbook
Need help? Visit our Help page for FAQ and helpdesk assistance
Accessibility: Textbooks flagged as accessible meet the criteria noted on the Accessibility Checklist
Open Textbooks:

Adoption Guide by Lauri Aesoph, BCcampus is licensed under a Creative Commons Attribution 4.0 International License, except where otherwise noted.
---