Find Open Textbooks
Line B: Employability Skills Competency B-3: Use Interpersonal Communication Skills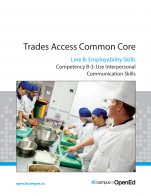 Description: No matter what your job is, you will need to communicate with other people. Your communication skills determine how successfully you receive and transmit information. Communication is arguably the most important of all life skills and plays a significant role in all aspects of work and home life. Communication is verbal, written, and non-verbal, and every gesture, voice inflection, or facial movement speaks volumes and conveys information to others. An effective communicator is also an active listener. Employers actively seek out Individuals who are good communicators. The following list of lines and competencies was generated with the goal of creating an entry-level trades training resource, while still offering the flexibility for lines to be used as stand-alone books. Line B – Employability Skills. B-1 Apply Study and Learning Skills, B-2 Describe Expectations and Responsibilities of Employers and Employees, B-3 Use Interpersonal Communication Skills, B-4 Describe the Apprenticeship System.
Author: Camosun College
Adoptions: Tell us you are using this Open Textbook
Adaptations: Support for adapting an open textbook
Need help? Visit our help page
Accessibility: Textbooks flagged as accessible meet the criteria noted on the Accessibility Checklist
Open Textbooks:

Line B: Employability Skills Competency B-3: Use Interpersonal Communication Skills by Camosun College is licensed under a Creative Commons Attribution 4.0 International License, except where otherwise noted.
---
1. Reviewed by:

Mary Wilton

Institution: Kwantlen Polytechnic University
Title/Position: Instructor, parts and warehousing foundation and apprenticeship
Overall Rating:

3.7

out of

5

Date:
License:

Q: The text covers all areas and ideas of the subject appropriately and provides an effective index and/or glossary

For the most part. additions and alterations:

Page 9- Please add the four parts of communication:

Sender
Receiver
Message
Feedback- the most important part in the communication process. Without feedback, there is no way to know if the message has been received as intended.

Also add in this area:

Two kinds of communication

One way- lacks any feedback. example, a radio broadcast, a newspaper. unless there is a letter to the editor section, that could make the communication 2 way. An ad is one way, uness a coupon has been added to the ad, and the user told to bring in. this can then give some feedback on the success of the ad.

two way- the most effective way to communicate. Each member of the communication system gives and receives feedback until the message is understood.


Page 10- Please add something here about voice inflection- saying "have a nice day" in a condescending tone does not imply the feeling that the words are to express.

Page 8- first sentence- change to " No matter what your job is, you need to be able to ....

Page 11- under the sketched faces, ask the question," can you figure out what each face is feeling?"

Page 12- bottom of page, adding something about taking notes down as someone is describing a situation will help to ensure that,1) you understand the situation and 2) the sender of the messge knows that you are paying attention.

Page 13-
The chart does not line up. example: "providing unconditional acceptance" should be acccross from the statement " conditional acceptance"
align figure 3 to match each other across the lines.





Comprehensiveness Rating: 3 out of 5

Q: Content is accurate, error-free and unbiased

I do not think that the self tests are very well done. At no time should you ask more than one specific item in one choice. make a, b, c, and d ONE thing. Also asking NOT questions is confusing for the test taker. Having made up numerous tests for apprentices this is basic skills.
All the tests are pure recall questions. A better solution is to put the information into action such as asking a question ex.

You are listening to a fellow employee who is voicing their concern over the new schedule at work, they finish their information. the next step is to....

asking bloomes taxonomy type 2 action questions ensures that the learners know how to put the information into good practice.

Most of the self tests are poorly done, with "all the above" and "none of the above" for choices. This sort of questioning does little to prepare students for the apprenticeship system and the ensuing tests, as the ITA tests will not have those choices. Please rewrite the test questions, using application based questioning, with four strong single answer choices.




Content Accuracy Rating: 3 out of 5

Q: Content is up-to-date, but not in a way that will quickly make the text obsolete within a short period of time. The text is written and/or arranged in such a way that necessary updates will be relatively easy and straightforward to implement

Page 19- under the concentrate area. there is NO mention of the phenomena of environmental noise, that occurs. This could be a machine making noise, but could also be hunger pains, emotional distress from a personal matter, or being tired. Please add this.

Page 23 discusses feedback. This again should be noted as the most important part of the communication process. Adding how to give good feedback should be inserted here.


Page 24 states" guidelines for giving and taking feedback" should be changed to giving and receiving feedback. It then matches the information. Bold the giving and receiving words in the preceding information.



Relevance Rating: 4 out of 5

Q: The text is written in lucid, accessible prose, and provides adequate context for any jargon/technical terminology used

Page 30- there should be some additional information on communicating about the issue, not the person.
example "you added too much bleach in the water and now the clothes are faded"
Changed to

"too much bleach was added to the water and the clothes are now faded"

This focuses on the issue, not the person. Please add.

"focus on the issue, not the person"
Use issue based statements.



Clarity Rating: 4 out of 5

Q: The text is internally consistent in terms of terminology and framework

not all. see previous comments on preceding pages. Please re do the tests.

Consistency Rating: 3 out of 5

Q: The text is easily and readily divisible into smaller reading sections that can be assigned at different points within the course (i.e., enormous blocks of text without subheadings should be avoided). The text should not be overly self-referential, and should be easily reorganized and realigned with various subunits of a course without presenting much disruption to the reader.

The headings are fine. See previous information

Modularity Rating: 4 out of 5

Q: The topics in the text are presented in a logical, clear fashion

yes they are in logical order, just missing things. See previous.

Organization Rating: 4 out of 5

Q: The text is free of significant interface issues, including navigation problems, distortion of images/charts, and any other display features that may distract or confuse the reader

Please add comment to the fact" can you tell what the faces are implying? " back on page 11.


Interface Rating: 4 out of 5

Q: The text contains no grammatical errors

Using the words "talker" as opposed to "speaker" do not coincide for reading.
example: page 16. question 4
"if you are a good TALKER, you are a good communicator" please remove talker and install speaker. More professional. There are other spots in the module where talker is used. please change.

Grammar Rating: 4 out of 5

Q: The text is not culturally insensitive or offensive in any way. It should make use of examples that are inclusive of a variety of races, ethnicities, and backgrounds

The mention of multi cultures and the different ways of communicating are good, but add axamples that are proven. This will help the student and promote discussion in the classroom.

Cultural Relevance Rating: 4 out of 5

Q: Are there any other comments you would like to make about this book, for example, its appropriateness in a Canadian context or specific updates you think need to be made?

Please please fix all of the self tests to reflect the kind of Bloomes Taxonomy questioning that will occur when these students take on an apprentice test. Application questions iwith four plausible choices. One the most correct. No true or false, no all of above.



Page 33- Please add as a bullet at the bottom, to the effect that any issue that has come to an agreeable solution should and MUST be revisited to confirm the solution is effective!


With these updates made, the module makes a good introduction to communication for level 1 or foundation apprentices starting out. That is my lens, trades. Will work.