Find Open Textbooks
Teaching in a Digital Age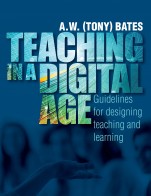 Description: The book examines the underlying principles that guide effective teaching in an age when everyone,and in particular the students we are teaching, are using technology. A framework for making decisions about your teaching is provided, while understanding that every subject is different, and every instructor has something unique and special to bring to their teaching. The book enables teachers and instructors to help students develop the knowledge and skills they will need in a digital age: not so much the IT skills, but the thinking and attitudes to learning that will bring them success. This resource includes translated versions in French, Spanish, Vietnamese, Chinese, and Portuguese.
Author: A.W. (Tony) Bates
Adoption (faculty): Contact us if you are using this textbook in your course
Adaptations: Support for adapting an open textbook
Need help? Visit our Help page for FAQ and helpdesk assistance.
Accessibility: Textbooks flagged as accessible meet the criteria noted on the Accessibility Checklist.
Open Textbook(s):

Teaching in a Digital Age by A.W. (Tony) Bates is licensed under a Creative Commons Attribution-NonCommercial 4.0 International License, except where otherwise noted.
---