Find Open Textbooks
BC Reads: Adult Literacy Fundamental English - Course Pack 4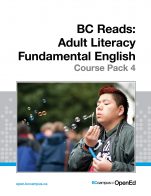 Description: This course pack is designed to meet the learning outcomes for Adult Literacy Fundamental English Level 4 (roughly equivalent to grades 4.5 to 6 in the K-12 system). Every chapter includes a level-appropriate, high-interest reading of between 400 and 500 words. The readings are freely available in a separate reader with convenient links to the readings in each chapter of this course pack. Font size and line spacing can be adjusted in the online view, and have been enhanced for the print and PDF versions for easier reading. This course pack has been reviewed by subject experts from colleges and universities.
Author: Shantel Ivits, Vancouver Community College
Adoptions (faculty): Contact us if you are using this textbook in your course
Adaptations: Support for adapting an open textbook
Need help? Visit our Help page for FAQ and helpdesk assistance
Accessibility: Textbooks flagged as accessible meet the criteria noted on the Accessibility Checklist
Open Textbooks:

BC Reads: Adult Literacy Fundamental English - Course Pack 4 by Shantel Ivits, Vancouver Community College is licensed under a Creative Commons Attribution 4.0 International License, except where otherwise noted.
---