Find Open Textbooks
Line E: Electrical Fundamentals Competency E-4: Use Multimeters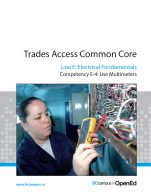 Description: Whether you choose to work in an electrical trade, a mechanical trade, or one of the construction trades, you will probably be faced with using and/or maintaining a variety of electrical measuring instruments. This Competency will introduce you to three basic meters for measuring voltage, current, and resistance. You must have a basic understanding of the purpose and operation of each type of meter before you attempt to use one. If you connect a meter incorrectly, you not only risk damaging the instrument, but more importantly, you or some innocent bystander could receive a serious electrical shock.The following list of lines and competencies was generated with the goal of creating an entry-level trades training resource, while still offering the flexibility for lines to be used as stand-alone books. E-1 Describe the Basic Principles of Electricity, E-2 Identify Common Circuit Components and Their Symbols, E-3 Explain Wiring Connections, E-4 Use Multimeters. Special thanks to CAPER-BC (https://caperbc.ca/) for creating the audio recording for each Competency.
Author: Camosun College
Adoptions: Tell us you are using this Open Textbook
Adaptations: Support for adapting an open textbook
Need help? Visit our help page
Accessibility: Textbooks flagged as accessible meet the criteria noted on the Accessibility Checklist
Open Textbooks:

Line E: Electrical Fundamentals Competency E-4: Use Multimeters by Camosun College is licensed under a Creative Commons Attribution 4.0 International License, except where otherwise noted.
---