Find Open Textbooks
Handbook of eHealth Evaluation: An Evidence-based Approach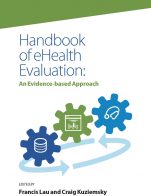 Description: This handbook presents the science and practice of eHealth evaluation based on empirical evidence gathered over many years within the health informatics discipline. The handbook describes different approaches used to evaluate the planning, design, implementation, use and impact of eHealth systems in different health settings. It also provides a snapshot of the current state of knowledge on the consequences of opting for eHealth systems with respect to their effects and implications on provider performance and health outcomes.
Author: Edited by Francis Lau, Craig Kuziemsky
Original source: http://hdl.handle.net/1828/7814
Adoptions: Tell us you are using this Open Textbook
Adaptations: Support for adapting an open textbook
Need help? Visit our help page
Accessibility: Textbooks flagged as accessible meet the criteria noted on the Accessibility Checklist
Open Textbooks:

Handbook of eHealth Evaluation: An Evidence-based Approach by Edited by Francis Lau, Craig Kuziemsky is licensed under a Creative Commons Attribution-NonCommercial 4.0 International License, except where otherwise noted.
---